First look and thoughts on Fiori-fied BI Launchpad
September 13, 2017 by: David Lai
After seeing the Fiori BI Launchpad previews, I was so excited to finally get SAP BI 4.2 SP4 installed on our sandbox.
It was literally like opening presents during Christmas as I couldn't wait to try out the fresh new interface that would be similar to SAP ONE Support Launchpad .
After the installation was complete, it was time to log in to the new BI Launchpad. So I typed in the url http://server:8080/BOE/BI, logged in, and long and behold… It was the old BI Launchpad.
I did some quick searching, and found out that the url for Fiori is http://server:8080/BOE/BILaunchpad.
No big deal, it makes sense that we still want to keep the old style BI Launchpad as it will take some time for users to adopt to the Fiori interface.
When I first logged in and started playing around with the Fiori BI Launchpad, there was some "Oooooooos and Awwwwws", until I realized… "Hey wait a minute, how come we can't do X, Y, Z in the Fiori BI Launchpad??"
In this article I'd like to provide my thoughts on the new Fiori-fied BI Launchpad.
The Good
Here are some items that I liked with the new Fiori BI Launchpad
1. I liked how Folders section has My Folders and Public Folders clearly visible on the left panel. In BI Launchpad, a lot of times people forget that you must click on the Folders which is not clearly visible to get to the public folders area.

2. The new Schedule area is nice. It provides a user friendly area to manage view your schedules. It would be even better if you could edit your schedules on the spot though.
The Bad
Unfortunately there are a lot of items in this bucket. Hopefully we can see some improvement here in the next version of the Fiori BI Launchpad.
1. Users can no longer access Web Intelligence. So this means that the Fiori BI Launchpad is only useful for read only report viewers. This is unacceptable as we can not have report viewers going to one platform, and power users going into another platform.
2. Users cannot set a customized starting location or have a customized report open up like in the current BI Launchpad
3. No more BI Workspaces! BI Workspaces is a very important feature of BI Launchpad, as it allows organizations to fully customize the homepage for different users.
4. Users cannot right click to get a context menu! context menus are super useful and they took it away!! Now we need to move the mouse to the … and click in order to get the context menu!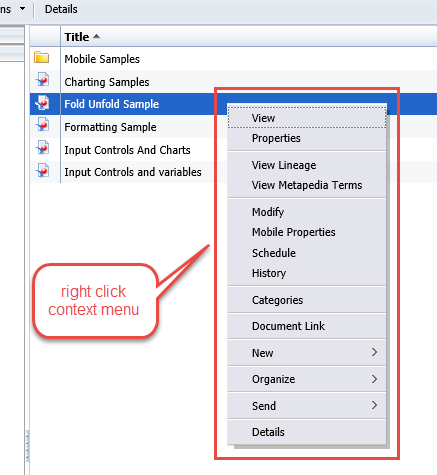 5. They took away the tabs! Internet explorer, Chrome, Mozilla all have tabs so that you can see in one shot which browser windows are open. This is a great feature in the current BI Launchpad as we can see which WEBI documents are open. Now we need to click on the arrow beside BI Launchpad in order to see a list of open WEBI documents instead of being able to see it right away!
6. In the current BI Launchpad, for scheduled WEBIs we can see what was the last run time and how many instances exist. Users can no longer see this in the Fiori BI Launchpad! Being able to see the scheduled properties is important because users can easily tell which WEBIs are scheduled. Also if there are WEBIs that are supposed to be scheduled at a certain time, users will know if they have successfully executed.
7. Not sure why the homepage shows so many WEBI Document tiles. Makes it so confusing for users.
8. On the alerts section, users can only delete 1 alert at a time. Sometimes there might be a system glitch causing lots of alerts to pop up. Not being able to multi-select to remove the alerts makes it a huge chore when having to delete multiple alerts.
Web Intelligence Viewer Limitations
Now let's take a look at all the Web Intelligence interactive viewer limitations
1. drill downs and report element linking does not work. I even had drill turned on in the report and it still doesn't work.
2. In my opinion input controls are more visible and easier to use in the original WEBI
3. Commentary functionality is not available
4. Fold/Un-fold functionality is not available
5. When refreshing, there is nothing that distinguishes mandatory and optional prompts
Conclusion
Hopefully this article has given you some insight on SAP's first stab at Fiorizing BI Launchpad.
Unfortunately with the new Fiori BI Launchpad, excitement has quickly turned into disappointment as the new Fiori BI Launchpad proves to be more of a semi functional preview.
At the moment, it is definitely not an option to even present the new Fiori BI Launchpad to users, due to the lack of functionality.
Hopefully we will see some major enhancements in the next set of service packs, as there is much to be done.
Comments
9 Responses to "First look and thoughts on Fiori-fied BI Launchpad"